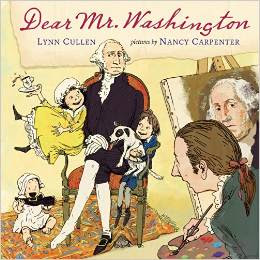 Dear Mr. Washington
Based on the true story behind Gilbert Stuart's famous portraits of Washington, this funny historical read will leave rascals, ruffians, and troublemakers of all ages laughing.
Charlotte, James, and baby John have promised to be on their very best behavior for when George Washington comes to have his portrait painted by their father, Gilbert Stuart. But, it seems like every time George Washington comes to visit, Charlotte has to write another apology letter, even when they try to follow George Washington's Rules of Good Behavior. If these whippersnappers want any dessert, they are going to have to learn some manners—and fast! What results is a hilarious chain of events, a giant mess…and a painting that will be remembered for centuries to come.
Reviews
New York Times, Feb. 11, 2015
The making of one of Gilbert Stuart's famous portraits of George Washington provides the backdrop for this charming take on the ever-mysterious personality of our first president. Cullen has seized on the intriguing fact that Stuart had 12 children and painted in his home, imagining that a daughter named Charlotte began a correspondence with Mr. Washington after a cat raced up his shoulder mid-session. The girl apologizes for the mayhem, then later thanks him for a book he sent — "Rules of Good Behavior for Boys and Girls" — and promises to copy down each of its precepts, just as Washington did as a boy. But as Carpenter's irrepressible illustrations make clear, try as the children may not to "Wiggle in the Sight of Others" or poke into their business, it's still one disaster after another in the Stuart household. Finally, little Charlotte stumbles on a way to make Mr. Washington smile for his portrait, in her small way influencing history.
Kirkus
Gilbert Stuart, George Washington's portraitist, had 12 children and fretted about his famous subject's unsmiling mien. These details inspire Cullen's story of three rambunctious siblings: Charlotte, James and Baby John Stuart.
Charlotte, a budding artist herself, writes three letters to "Mr. Washington" in April 1796. Her polite, guileless accounts belie the household mayhem that Carpenter's lively ink-and-wash illustrations depict. Charlotte's first missive thanks Washington for sending an etiquette book; she pledges to copy it out, just as Washington had done as a boy. Indeed, Cullen adapts the historical book Rules of Civility & Decent Behavior in Company and Conversation for the 10 proscriptions that Charlotte lists out. Covering both the usual (eating) and the quaint (the polite way to dispatch fleas, lice and ticks on oneself and others), the rules are comically illustrated as paintings on canvas, presumably done by Charlotte herself. She confides, "In no time I am sure James and I will have learned all these Rules. I hope so, for Mother says until then we get no Pudding after dinner." Subsequent letters recount both good behavior (which induces sleep in both the children and Washington, scuttling one sitting) and chaos, with an overturned punch bowl engendering a cascade of events culminating in a smile from George—and the completion of Stuart's portrait.
This collaboration's clever epistolary narrative and playful pictures present a fresh, remarkably humanizing view of our first president.
School Library Journal Spotlight
Books about our presidents are perennial favorites, and George Washington is one of the most frequently requested subjects. As we approach his birthday, celebrated this year on February 16, share some of the many books about him with your students. One sure way to generate enthusiasm for these titles is to read aloud a selection of Washington's "110 Rules of Civility and Decent Behavior in Company and Conversation," penned when the president-to-be was 14 years old. These George-isms(National Geographic, 2000) include such gems as "Cleanse not your teeth with the table cloth, napkin, fork or knife; but if others do it, let it be done with a pick tooth," "Show not yourself glad at the misfortune of another, though he were your enemy," and "Do not puff the cheeks; loll not out the tongue, rub the hands, or beard, thrust out the lips, or bite them, or keep the lips too open or close."
A select few of these "rules" are highlighted in Lynn Cullen's delightful new picture book Dear Mr. Washington (Dial, 2015; Gr 1-4), illustrated by Nancy Carpenter. The book features the president and the 18th-century American artist Gilbert Stuart, along with several of Stuart's 12 children. Stuart painted three images of our first president, and reproductions of them abound—including the one on the U.S. dollar bill. But perhaps the his best-known portrait of Washington is the full-length oil painting of the man, dated 1796 and owned by the National Portrait Gallery. In that painting, Washington stands in front of red drapes and two Doric columns, next to a table covered with a red cloth and books and writing utensils—symbols of his public service. In the portrait, Washington is wearing a somewhat solemn expression, sometimes attributed to a painful set of false teeth.
Cullen's interpretation of Washington's countenance in the painting is a bit more fanciful. Stuart is known to have painted Washington's image in Stuart's home; the president didn't enjoy posing, and his "grim expression" was ruining the portrait, until the artist discovered that the topic of horses could get him to smile. In her author's note, Cullen states she liked "to imagine the Stuart children having a hand in" that smile.
Dear Mr. Washington is written as a series of apologetic letters to the president after he sent the rambunctious children ("scallyways" in his words) a copy of his "Rules of Civility." The letters are written by "Charlotte Stuart," the oldest of the three incorrigible children featured in the book, who at one portrait sitting or another chew his hair ribbons, race the family cat up his shoulder, suck on his shoe (the baby), spill punch, cry, laugh at the misfortune of another, howl, and cry again (Baby John). In an attempt to get Baby John to laugh, Charlotte hoists him up for a horsy ride, finally eliciting a grin from the president.
Nancy Carpenter, illustrator of Kristine O'Connell George's Emma Dilemma (Clarion, 2011), Jenny Offill's 17 Things I'm Not Allowed to Do Anymore (Schwartz & Wade, 2006), and Eva Moore's Lucky Ducklings (Orchard, 2013), among other titles, offers a depiction of Stuart's offspring that is as raucous as her subjects. Both full-page and spot art illustrations in mixed media (pen, acrylic paint, and digital media) deliver an abundance of humorous details, as they paint the picture of a man famous for both "his courtesy and excellent manners."