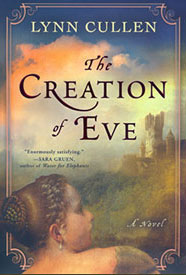 The Creation of Eve
It's 1559, and 27-year-old Sofonisba Anguissola, a celebrated Italian artist studying with the great Michelangelo, has just blown the chance of a lifetime. "In the time it takes to pluck a hen," she writes in her journal, "I have ruined myself."
No longer can she sign her paintings "Virgo."
Born in 1532, the real Sofonisba was renowned in her native Cremona and throughout Italy as a leading painter of the Italian Renaissance. Yet beginning in 1560, she would spend the next 10 years as a lady-in-waiting and art teacher to the queen of Spain, abandoning her career at the height of her popularity.
In The Creation of Eve, Atlanta author Lynn Cullen's lavishly detailed, sparkling re-creation of that period, an ill-fated love affair with a fellow student in Rome cuts short Sofonisba's studies. When no marriage offer materializes, she accepts a different proposal: an appointment from King Felipe II to teach his latest wife "her colors."
On arrival in Toledo, the artist's star quickly fades. "I am less of a person here now," she notes, "than I was in Cremona." She soon finds, however, that life in the Spanish court consists of dangerous liaisons and lethal jealousies that make her reduced status the least of her worries.
Nor can she outrun her past: The head of the Inquisition in Spain wants to talk to her about her old teacher Michelangelo's controversial love life — and his involvement with the lover she still hopes to marry.
The story unfolds in Sofonisba's journals, along with notes on her craft, herbal remedies and relevant, occasionally gory, historical facts. "I have heard," she writes, "the English queen, Kathryn Howard, had been feeding her dogs bits of boiled chicken when King Henry's men came and took her screaming down the halls of Hampton Court." Within days, she adds, Kathryn lost her head.
Before long, Sofonisba worries that her irrepressible charge will meet a similar end. Flirty, careless and at first too young to produce an heir, Elisabeth de Valois prefers her new teenage companions — the king's handsome half-brother, Don Juan, and his son, Don Carlos — to her stiff, pompous husband.
Especially the aptly named Don Juan.
A noblewoman by birth, Sofonisba is no stranger to the repercussions should Elisabeth fail to carry out her wifely duties — or worse, be caught in some not-so-innocent flirtation. For in 16th-century Spain, "when a king wishes to punish his wife for an indiscretion, it is not called murder."
There couldn't be a finer Renaissance reporter than this intelligent, educated, sharp-eyed romantic. She notices everything — and what she misses, her servant, Francesca, eavesdropper extraordinaire, is sure to catch. Sofonisba's notebooks are filled with shrewd observations of the brutal realities of court life, as well as the economic difficulties, religious conflict, piracy and war that threaten a powerful empire. She gives us vivid portraits of the ruthless Catherine de' Medici; the gloomy, scheming Spanish courtiers; a passionate but misunderstood king; and a "little sprite" of a queen plagued by unexplained fevers and rashes.
Her scientific training also enables her to grasp the potential of a recently imported New World plant with poisonous properties.
Cullen's previous books include I Am Rembrandt's Daughter and Moi and Marie Antoinette. With this suspenseful, evocative tapestry of Renaissance life, art and royal skullduggery, the author has made a skillful — and, with any luck, permanent — jump into adult fiction.
— Gina Webb, The Atlanta Journal-Constitution (March 28, 2010 Sunday Main Edition)
A lush and compelling tale of royal intrigue and artistic longing, set in the sixteenth–century Spanish court.
The Creation of Eve is based on the true but little-known story of Sofonisba Anguissola, the first renowned female portraitist of the Renaissance. After a scandal in Michelangelo's workshop, Sofonisba flees Italy and joins the Spanish court of King Felipe II to be a lady-in-waiting to his young bride. Sofonisba befriends the queen, only to become embroiled in a love triangle involving the queen, the king, and the king's illegitimate half brother, Don Juan. The Creation of Eve combines art, romance, and history from the golden age in Spain in a story that asks the question: Can you ever truly know another person's heart?
Sofonisba Anguissola, a student of Michelangelo, became the first distinguished female painter of the Renaissance. In her first adult novel, The Creation of Eve, Lynn Cullen uses the facts of this little-known artist's life to conjure an intoxicating tale of love, betrayal and redemption.
The complex story is told through letters and journals kept by Sofi, as she's called here. After a passionate encounter with a fellow student in Michelangelo's studio, Sofi escapes ruin by accepting an appointment proffered by the most powerful king in Europe. Transported from Italy to the Spanish court of Felipe II, the 27-year-old artist becomes the favorite companion of Elisabeth de Valois, the king's teenage bride.
"So this was the child for whom I put aside any hope of becoming a maestra," Sofi tells us, "because the King, upon hearing about me from the Duke of Alba, thought his little bride might enjoy painting lessons from a virgin painter." To teach the young queen to draw is Sofi's official job, but to save Elisabeth from the treachery of the court becomes her secret mission.
While giving the reader illuminating information about art and science during the 16th century, Cullen also provides insight into the royal struggles and political machinations of the time. Perhaps her work as a prize-winning writer of young-adult books enables the author to get inside the head of the teen queen with such compassion and clarity. When Elisabeth falls in love with her husband's illegitimate half brother, Don Juan, and attracts the attentions of the king's troubled son, her situation grows even more perilous.
Sofi's intelligent voice keeps the story grounded. Her struggle to create art at a time when women were not allowed to observe dissections or paint nude figures — let alone sign their names to their own paintings — is heroic. Thinking of talented women everywhere, those "pale uncertain Eves," she offers this advice: "If only we can be so brave as to love and accept the fragile spirit residing within each one of us, then, only then, we might take the gift of self-knowledge offered in its shy and trembling hands."
Cullen tackles the contradictions of the Renaissance and captures the dangerous spirit of the Inquisition while handling these vivid characters with prodigious control. The Creation of Eve is a historical romance that teaches as it touches.
– Eugenia Zukerman, The Washington Post (March 31, 2010)
Atlanta's Lynn Cullen, a successful writer of books for young readers, makes a stunning leap into historical fiction for adults with The Creation of Eve. Cullen had set out to write a novel about Spain's King Philip II but got distracted by a remarkable real-life character in his court: Sofonisba Anguissola (c. 1532–1625), a gifted protégé of Michelangelo who fled Italy after a scandal and became a lady-in-waiting to Philip's irresistible fourteen-year-old bride, Elisabeth. The story that unfolds—centering on a love triangle involving the young queen, the king, and his illegitimate half-brother, Don Juan—is drenched in lavish details of sixteenth-century life, love, and art. Turn to virtually any page of this swoon-worthy blend of mystery, romance, and history and you'll find an incandescent description of a sight, a smell, a touch: "It was a chill day in late February. A wind full of the smell of dead vegetables rattled the few withered leaves that clung tenaciously to the elms across the river and snatched at our veils and cloaks." Cullen obviously immersed herself in the history of Spain's Golden Age, but she never allows her research to outmuscle the story told by her graceful and intelligent narrator. "The maestro of maestros had a head like a cannonball, the thick high cheekbones of a Slav, and a squashed nose," Sofonisba says of Michelangelo. "His sharp eyes were so deeply set it was impossible to determine their color . . . His hands were so calloused they looked to be made of the stone in which he worked."
— Teresa Weaver, Atlanta Magazine (March 1, 2010)
"The year is 1560; Elizabeth of Valois (1544–68) has just become the third wife of King Felipe of Spain, and the talented female painter Sofonisba Anguissola (1532–1625) has been appointed art instructor to the young queen. In a court filled with all manner of politics, from religious debate to petty jealousies and forbidden love affairs, these two conflicted and often unhappy young women find in each other a much-needed friend and companion. Through the eyes of Sofi, Cullen captivates her readers with the thrill and drama of 16th-century Spain. Hewing closely to historical record, the author fills in enough spaces to make a satisfying story but strategically leaves certain details to the imagination, a trick that has the reader deliciously wishing for just a little bit more. VERDICT Marking a strong adult historical fiction debut for YA author Cullen (I Am Rembrandt's Daughter), this is a good choice for fans of Tracy Chevalier, Sarah Dunant, or Elizabeth Kostova's The Swan Thieves. Highly recommended."
– Leigh Wright, Bridgewater, NJ – Library Journal, starred review
"The largely unknown story of female Renaissance painter Sofonisba Anguissola (c. 1532–1625) is beautifully imagined here in YA novelist Cullen's sparkling adult debut. In a page-turning tale that brings to life the undercurrent of political, romantic, and interfamily rivalries in the court of Spanish King Felipe II, the author shines a light on Sofonisba, who is brought under the tutelage of Michelangelo and later appointed as a lady-in-waiting for the king's 14-year-old wife, Elisabeth, to whom she becomes a close confidante. The author offers an intriguing vision of what life was like for women of different economic and political stations at that time, and she also takes care to not short-shrift the specifics of Sofonisba's art and methods. Cullen has found a winning subject in Sofonisba, whose broken heart as a young woman colors her perceptions and judgment about the queen and her imperious husband, as well as the young Elisabeth's attraction to the king's brother, and Elisabeth's odd relationship with the king's son from his first marriage. Ongoing references to the Spanish Inquisition and the life of the controversial Michelangelo add depth to this rich story."
– Publisher's Weekly
"To read The Creation of Eve is to experience that wholly delicious bookish pleasure of total immersion. Sofonisba Anguissola, an Italian painter, is sent to Spain as portraitist to Elisabeth de Valois and there, amid the baroque intricacy of court politics, rivalry, and romantic intrigue, she struggles to carve out her role- and her legacy- as one of the most admired painters of her day. I found this novel about the quest for fulfillment in art and love enormously satisfying and I'm grateful to Cullen for the pleasures of such a splendid read."
– Sara Gruen, author of Water for Elephants
"Through the keen eye of a painter trained in observation, we are drawn into the rarefied and restricted life of a queen and a court bristling with intrigue, jealousy, misplaced love, escape and escapade—-what could be more tantalizing? With rich visual description, Lynn Cullen secures her place in the tradition of regal historical fiction."
– Susan Vreeland, author of Girl in Hyacinth Blue and The Luncheon of the Boating Party
"The Creation of Eve takes readers to a fascinating time–the Renaissance–and introduces us to a remarkable woman, a talented artist neglected by history. Thanks to Lynn Cullen, Sofonisba Anguissola is now unforgettable."
– Sharon Kay Penman, author of Devil's Brood and The Sunne in Splendor
"What a marvelous, rich, and compelling novel! Lynn Cullen draws an astonishingly vivid world of a gifted woman artist who has studied with Michelangelo, and the young unhappy queen of Spain whom she serves in that turbulent sixteenth-century court. I was unable to put the novel down and lived in its world."
– Stephanie Cowell, author of Marrying Mozart
"The Creation of Eve is above all the gorgeously written, beautifully structured story of Sofonisba Anguissola, an Italian Renaissance painter who happened to be both great and female. She the staunchly intelligent narrator of Lynn Cullen's complex, meticulously researched portrayal of the Court of Spain in the 1560s, and a true heroine in her own right. This novel is a juicy plum from start to finish."
– Kate Christensen, author of Trouble and The Great Man, winner of the 2008 PEN/Faulkner Award